---
Welcome to the Springfield Motorboat Club!
Looking back at our history, in the spring of 1933, the Springfield Motor Boat Club was organized with Louis Schwartz, Herbert Adams as President, William Kessling as Vice President, Chan Charlson as Secretary, and Dr. A.E. Walters as Treasurer. The club had a roster of approximately 30 members. Over the years, The Springfield Motor Boat Club has thrived and has a rich tradition as a private, family oriented club, where members and their families socialize, enjoy boating, and lake activities. We look forward to many more years as a boat, dining, and social club on Lake Springfield. We hope you will consider joining our club.
Sincerely,
Doug Smith, Commodore

Look for us on Lake Springfield!
(Click on Image for Google Maps)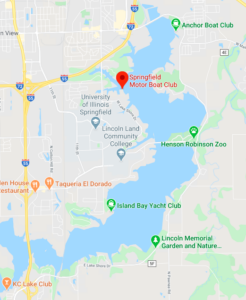 Commodore's Message
On behalf of myself and the Board of Directors, I am penning a plea to the membership of Springfield Motor Boat Club. The year 2020 has been quite the year for everyone. As the global pandemic of COVID-19 has affected each of us in different ways, it has been relentless to businesses and the individuals who own, run and work in them. We as a board have done everything we could to exercise extreme fiscal responsibility and provide the highest acuity to policy and procedures. This is ensure SMBC continues to be a safe place to enjoy along with our great restaurant and food. . With the winter months always being a slow period in our club, we usually have holiday parties/events that cover our overhead and expenses that get us through the end of each year. This year is a lot different due to the COVID-19 pandemic. With its phases, tiers, mitigation, and length of time it has persisted, it is finally catching up financially to SMBC. So, what we are asking is for every member to utilize our to go/curbside pick-up just once a week to help support our club through this phase of the pandemic. We have two full-time staff members that have done an amazing job for us throughout this difficult time, and this can help show them how much they mean to SMBC. Thank you for your amazing support thus far, and please consider your club for your To Go Dining option as we wave goodbye to 2020 and begin 2021. Thanks again.
Ph. 217-529-1511
Respectfully,
Douglas Smith, Commodore SMBC